Oh boy!!! Thinking about our closets can put the fear and panic into people. It's a common "little secret" that most of us just shut the closet door and ignore the mess- and I am guilty too!
So, it's my turn. I am going to clean my closets in my house.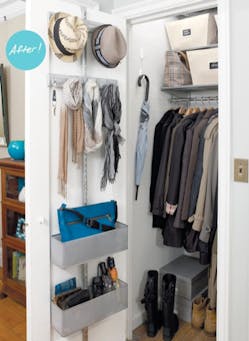 And the realtor in me knows that keeping closets organized and maintained truly helps when you decide to sell.
Hmmmm- but, where do I start? , it's kinda overwhelming. I am told by experts that what can seem like a huge job, organizing my closets, is actually incredibly therapeutic … no, really!
Well, it's time to find if this is true. It is a great time of year to tackle this project. The colder weather keeps us inside more, so an indoor project is perfect.
Here are my lessons learned
… here's one big tip- start with one closet. Don't look beyond one closet.
Professional organizers tell us that we get overwhelmed if we think about the whole project. Break it down into manageable tasks.