Oh boy!!! Thinking about our closets can put the fear and panic into people. It's a common "little secret" that most of us just shut the closet door and ignore the mess- and I am guilty too!
So, it's my turn. I am going to clean my closets in my house.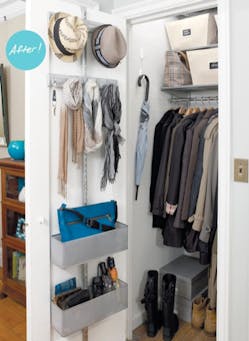 And the realtor in me knows that keeping closets organized and maintained truly helps when you decide to sell.
Hmmmm- but, where do I start? , it's kinda overwhelming. I am told by experts that what can seem like a huge job, organizing my closets, is actually incredibly therapeutic … no, really!
Well, it's time to find if this is true. It is a great time of year to tackle this project. The colder weather keeps us inside more, so an indoor project is perfect.
Here are my lessons learned
… here's one big tip- start with one closet. Don't look beyond one closet.
Professional organizers tell us that we get overwhelmed if we think about the whole project. Break it down into manageable tasks.
I started with a smaller closet because again- the idea is that I didn't want to feel overwhelmed or discouraged.
Next, I got 3 " medium sized" moving boxes. You are going to make 3 decisions.. is the item going in the keep box?, the recycle box? or the throw away box? BE RUTHLESS with this process. If you haven't worn or touched the item in 6-12months, you really need to consider getting it gone.
Once the closet is empty, this is a perfect time to clean it. It's time to paint it, or wipe down the walls, wash the shelves and vacuum the dust bunnies off the floor.

Is it time to rework the set up of the closet? I felt that once I had an empty closet, I wanted to add some newer hardware to the closet.

I doodled out a better use of the space and then did a little planning Our local stores have some neat closet adapters and gadgets. You can add moreshelving or hanging bars inexpensively with "do it yourself" items from our Home Hardware or Canadian Tire. Add a screwdriver, and a stud finder, and you have more closet space. I also learned from watching TV personality Peter Walsh that there are other hangers and gadgets that are very effective like pullouts, called a freedom rail that lets you hang 1 outfit at a time (say your outfit for the day) . When you're done with the pull out,it just tucks back into its space- an excellent tool….. Peters website is chalk full of ideas and quizzes you can take, to help with organization. I like his approach to organizing. It makes sense and is all about EVERYDAY REAL LIFE situations. USABLE ADVISE. Thank you Peter

Www.Peterwalsh.com

 Time to start putting items that belong in this closet back. I had started with our front closet, and found that there were many items in the "keep box" that actually belonged in another area of our house … an example would be the baseball and bat that belonged in our storage shed with the other sports stuff. Professionals suggest that your goal is to only put back 50% of the items that were in the closet before you started. If there is more then that, maybe you need to revisit step 3 …the keep vs giveaway box

I hung all the current weather coats back up. Phil's on the left and mine on the right with enough room for empty hangers. NOT for more of our coats, but for guests coats and jackets. 3or 4 extra hangers, no more, or you will quickly fall into old habits or hanging unnecessary items in the front closet.

Now, either find 3 baskets or organizers that fit neatly above or below the coats on shelves. Don't use the floor for this if at all possible.An area of shelving can house the baskets. Next, because we live in Alberta, I put all pairs of the gloves we use (and threw away mismatched pairs), I love scarves, so I bought a hanging gadget One that I can hang several scarves up and ready to wear. The other basket was for our hats and toques.
I love a fresh scent and so I decided to keep a favourite room freshener spray in the closet. When I open the closet, I can give the area a quick spritz.
Moths are a real thing, so buy a real cedar chips or lavender Sachets to discourage moths to hang in your clean freshly organized closet
All done! And I can honestly say, this process was enlightening. I truly do feel better…. lighter, and every time I put a coat on, I feel accomplished. Next, the bedroom closet…wish me luck !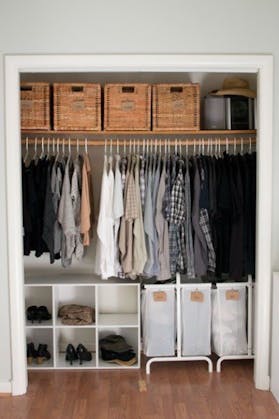 Cheers 
 Hayley Poirier
 The REPs group REMAX Realty Horizon