Canada has 4 seasons. We embrace the change of the weather as we gently (or not so gently) move from hot Summer weather into the crispness of Fall
We pull on our favourite sweaters, cuddle on the couch with Pumpkin Spice Lattes and start to plan fall activities like kids hockey and ringette, Boy Scouts or Guides. All the stuff that Fall is made of….. BUT how many of us plan the Fall Home Selling season?
As a REPs Group Realtor®, I have conversations with people all the time asking if FALL is a good time to list their home …and we say YES
Many buyers are out looking for homes now before the snow is here to stay, so a savvy seller takes advantage of the potential opportunity
Yes, selling in the Fall is a little different then in Springtime or summer …. but it has its advantages, if you plan.
I have gathered some of my favourite Fall Selling Secrets ….here are my top 5
1. Clean up the yard…your whole yard . Get the rake out, prune the trees a bit, cut the grass one last time and put the garden to bed for the winter.
In summer, the brightness and fullness of the summer plants really add cheer to a yard. But In Fall, we don't have that luxury
(though the green grass and evergreen trees, and the beautiful changing leaves do look so good right now) .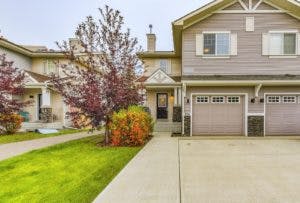 A yard that is super TIDY and trimmed shows your property at its BEST in Fall.
And If weather permits, maybe keep your lawn chairs out staged by the firepit, with a bundle of wood. This gives the buyer an idea of coziness. A fire in the evening of a cool fall night is truly relaxing.
Small details like water hoses and garden tools stored away neatly for the season, give the buyer an impression that you CARE about your home.
2. Next, Pull our your yard broom or power washer and get to work. The littlest of creatures need to be swept away. Have you ever walked around the exterior of your house and noticed all the little spider webs and dirty marks? Sweep or wash them away. And get the exterior windows washed up one last time too. Dirty windows are a large turn off for buyers.
3.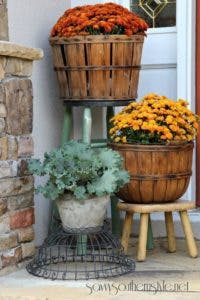 Now that the yard and exterior are organized and neatly trimmed up, add some Fall colour …just a bit goes a long way. I love to add a large potted Mum or 2 at the front step.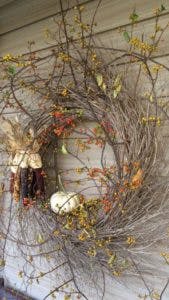 Many home owners will put a fall wreath on their door (bargain hunt at the dollar store or discount stores) If the budget is tight or you are crafty, go for a walk on forest trail, bring your snippers and cut yourself some foliage. Then grab a large pot (discard from summer possibly) and create a display for the front door or back deck.
As we move into October, I love to see a pile of Gourds in a basket or several pumpkins
Little sprinkles of fall colour add the brightness that you might be missing. When you are listed for sale, always consider BOTH the front and backyard in your plans.
Another little tip-Repeating a small display on the back deck reminds the buyer of the fond first IMPRESSION they had as they walked up your front steps.
It's kind of like the Bow on a gift or the "icing on the cake" Finishing details make ALL the difference.
4. The outside is ready, lets move indoors.
The furnace and fireplace have probably not been turned on for months, so it's time to get them cleaned and serviced before you need to turn them on. It's a good maintenance tip for everyone, but especially for sellers. Be prepared.
With an accepted offer, typically there is a home inspection. The inspector will take note of when the furnace was serviced last and a buyer will feel confident in seeing that the seller has maintained key items.
If you have Central AC, maybe put the cover on it and tuck it in for winter.
5. Ahhhhhh, the smell of Fall baking- can you beat it?
Apple pie, Banana bread, cinnamon cookies …..Fall flavours are so inviting. The comfort of smelling fall baking is simply magic!
Having a plate of cookies out on the counter on a fall day makes buyers feel right at home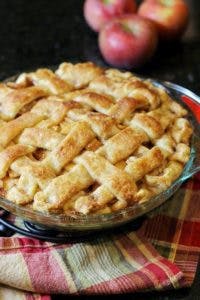 If you need some ideas about what I've mentioned here, please reach out to one of the REPs Group. We love to share ideas.